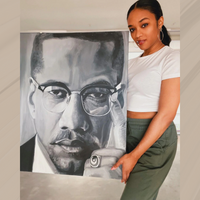 Malcom X
"This Randi Carodine print is sure to add some serious edge to your decor. The vibrant colors and striking portrait make it the perfect way to show your support for black history and art. Fade-resistant and museum-quality, this print is a must-have for any art lover or activist."
The Suppressed
Some days you just need to let out your frustrations, and what better way to do that than with a Suppressed Canvas Print? This print is the perfect outlet for your emotions, letting you express yourself in a creative and fun way. The muted colors and abstract design allow you to unleash your inner artist, while the message of suppression lets everyone know that you're not always as calm and collected as you seem. So go ahead and let out your anger, sadness, or happiness with this unique canvas print.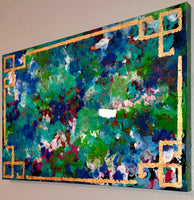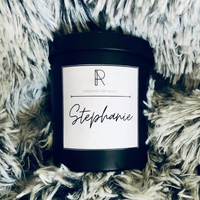 The Stephanie
The Stephanie Candle is a refreshing, floral scent. Notes of jasmine and lemon delicately blend with gardenia. A favorite among men and women, this scent pulls you in with a combination of fresh lemon and jasmine. Best for smaller rooms. 8 oz container of hand-poured coconut-soy wax.
Scent Profile:
✓ Top: Gardenia, Lemon
✓ Mid: Tuberose, Jasmine
✓ Bottom: Powder
This is a handmade item. Small imperfections may occur.
Each lid is one of a kind. While the color scheme will be the same, the lid pictured may not be the exact lid received. 
Only $25.00
Get Yours For Only $25.00
What our customers say
The Unheard speaks to me. I am in love with my new piece from Randi! The details and complexity of the Unheard speaks to me every time I look at it and I couldn't be more happier with my newest addition to my collection.

Nicole D.
Yesterday was the celebration of starting year 38 in this thing called life. I started the day off by giving my mother an amazing portrait of my grandfather and two of his great grands that he never was able to take a photo with. It made my mother's face light up and made me feel so good to give back to her on the day she gave me life. Thanks again for the amazing piece of art. Check her out. She has some dope artwork.

Kenya N.
Great art, professionally packaged and immediate shipping. Will purchase again.

Jerome C.
Would You Like To Commission Me To Create A Custom Canvas?
Click the button below to contact me to discuss your custom canvas!
Randi
Start Your Custom Order Here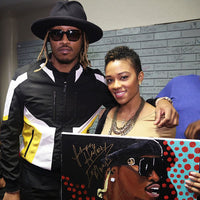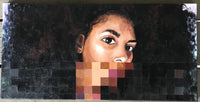 The Unheard
This started as a way to get out of a creative rut, but has gained so much meaning. I asked my Instagram followers who would like me to paint them. A picture of one woman who answered just stood out. I thought her eyes were piercing and her hair was gorgeous. The pixilated month was just something different at first, but now it means so much more.